India has about 450 million internal migrants, most of whom are intrastate rural migrants or seasonal migrants from neighbouring states. Migration—within and across states—improves the socioeconomic status of people, benefiting the destinations as well as home sites of migrants. So why does India have a lower rate of interstate migration compared to other countries with similar economic development indices? As per one study, this could partly be due to "migrant unfriendly policies" in the country.
Across industries and sectors, migrants work for lower wages in worse living conditions, with scarce to no "legal, linguistic, and social support mechanisms". Nearly all migrants in India were affected by the shrinkage in urban jobs post COVID-19. Many of these migrants were part of the informal workforce—working in factories and at construction sites, for example—which made their situation more precarious.
In the face of such circumstances, many migrants were forced to return home. Even as the country began to get back on its feet after the lockdowns, some migrants decided to stay back in their native areas. The uncertainty around future lockdowns and unfavourable reports from their peers who did go back to cities were among the primary drivers of this decision.

Ashif Shaikh of Jan Sahas (an organisation working on safe migration and workers' protection across 13 states) and Anish Kumar of TRIF (a grassroots foundation working on challenges faced by marginalised Indian communities in the poorest 100,000 villages), have worked with migrants in Madhya Pradesh (MP). They share their insights on how migrants who stayed back in rural MP navigated livelihood options in their places of origin.
Government schemes
A few months after the first lockdown of 2020, the government started a rural public works scheme, known as the Pradhan Mantri Garib Kalyan Rojgar Abhiyaan. This scheme was implemented in six states to provide income to unemployed citizens. However, it was only accessible in certain districts where state or district government reported numbers of returning migrants effectively, and failed to reach areas where administration didn't gather this data.
MGNREGA, India's flagship rural employment guarantee scheme was another potential lifeline for returning migrants. However, according to Anish, while rural Madhya Pradesh has seen a sustained demand for MGNREGA, it has been the last option chosen by returning migrants. Interest in MGNREGA is waning among youth and 'older' people (over the age of forty, roughly), due to the hard labour involved and low wage rates, which in MP are at INR 193. Lack of timely payments is another factor that has dissuaded people from choosing MGNREGA.
Agriculture and farm wage employment
One would assume that farming was the obvious fallback option for migrants who returned to rural homes. However, this was not universally true. This avenue was only available for those whose families had agricultural land; many who didn't had to find other alternatives.
For those who did have the option to rely on farming, agricultural incomes were fairly stable, but this did little to assuage rural distress with respect to economic stability.
Another observation is that many rural youth no longer want to engage in traditional farming activities. They find farm wage employment risky—it doesn't pay much and entails a lot of drudgery. Having worked in cities, many are not used to this kind of labour.
Local industries
Pre-COVID, TRIF organised skilling programmes and placement services. They would train applicants to take up vocations ranging from front desk management and housekeeping to healthcare provision. These jobs were predominantly available in cities such as Hyderabad, Pune, and Kolkata. The interest in this programme has declined, even for the few jobs that are available in rural areas. This could be attributed to the fact that people no longer want to travel to distant cities lest another lockdown upturns their lives again.
However, some migrants, with the help of skilling/placement programmes, have found work in local industrial areas.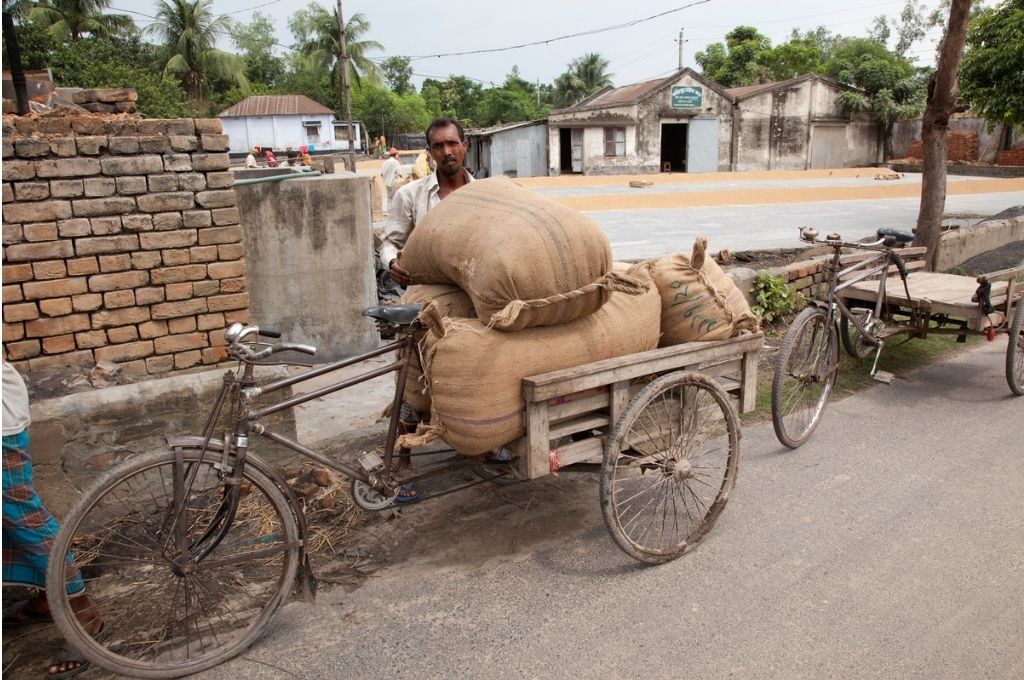 Alternatives and recourses
Ashif observes that a noteworthy feature in migrants' aspirations after the pandemic is that they seek dignity in their places of work. They are willing to overcome language barriers if they are treated with respect and find comfortable working conditions for themselves and safe living conditions for their families.
And they want better livelihood opportunities. Here's how this could be facilitated.
1. Better wage rates
The stark difference in the minimum daily wages between states such as MP (INR 193) and say, Haryana (INR 350) for unskilled work must be corrected. A short-term solution would be ensuring timely payment of wages, for which funds would need to be transferred from the central to state governments with more regularity.
Further, the MP government's MGNREGA wage rate (INR 193), which hasn't been linked to the unskilled minimum wage rate (INR 250), must be addressed as well.
2. Asset creation
Anish notes that for some people working for a wage isn't an attractive option when it involves creating public assets. If schemes such as MGNREGA were linked with creating individual assets, they may gain more popularity. The government has taken cognizance of this, having set up guidelines for women's federations to invest in Individual Beneficiary Schemes. MGNREGA also has a provision for the creation of individual assets. It could, for example be used to create individual rainwater harvesting structures, which would enable farming households to meet their irrigation requirements. This is turn would ensure better incomes for these households.
Budget constraints have marred the progress of this venture. However, demand for individual asset creation is increasing which could result in its inclusion in budget estimates.
3. Small enterprise
A small number of people—who neither wish to return to the cities nor explore agriculture locally—have shown interest in small enterprises. There has been a slight increase in those wanting to set up their own small businesses, ranging from grocery stores to packaged drinking water enterprises.
4. Fisheries and dairies
For those looking for alternative livelihoods, starting or diversification into fisheries, dairy, poultry farming, goat rearing or a combination of these—depending on the location and its demand—may be a viable option. Anish states from experience that that there is an unmet need in fisheries, dairy, off-farm, or farm-allied activities. While the overall economy is not doing well at present, it is likely to pick up in the coming years, and these sectors have scope for growth. Looking at future demand estimates, he predicts that a combination of homestead and off-farm work in the rural areas could be carried out at scale. 
5. Service industry around infrastructure
The government has started largescale programmes such as the Pradhan Mantri Awas Yojana, Pradhan Mantri Gram Sadak Yojana, and the other rural infrastructure schemes. These programmes rely on newer forms of technology, creating an opportunity to build a service industry around the use and maintenance of this infrastructure and train people for a new set of requirements. The use of IoT devices, for instance, creates new employment avenues. IoT finds application in the electrification of villages and where tap water has been made available in homes, and this generates a work opportunity in meter reading. These require people with digital proficiency and a different set of skills, which, according to Anish, can be acquired locally. He states that the existing skilling ecosystem could be modified to equip a rural workforce to deliver services that are located in rural India.
6. Accountability from government and industry
Ashif observes that in the aftermath of the pandemic, many employers, particularly those who employ informal labour, now seem to prefer younger workers (18–40 years old), and are reluctant to hire women and people over the age of 40. However, to generate more and better livelihood opportunities for informal workers, the government and industries must collaborate and commit to employ a certain percentage of workers from 'vulnerable groups', including migrants, women, and people with disabilities.
Another tool that remains untapped is the Building and Other Construction Workers cess. This cess is collected from industries for the benefit of construction and other worker and has funds to the tune of INR 30,000 crore. However, there are neither clear plans for utilisation, nor any way to hold the state or industry accountable to use these funds.
Building sustainable livelihoods
The planning commission's State Development Report for MP notes that the employment challenge facing the state does not just involve creating new jobs, but is also to 'make existing livelihoods stronger and sustainable'. Agriculture, manufacturing, and services are the primary livelihood generating sectors in the state, which has seen low per capita income and economic growth over the years. While the presence of heavy industries attracts migrants from other states, the rate of out-migration is low. This means that more rural residents here are not equipped to move out for work, in spite of various socioeconomic difficulties at home.
This perhaps deepens the vulnerability of migrants who did manage to leave but were forced to return due to the pandemic. The ground revelations shared by Ashif and Anish show that migrants in MP, like in many other states, are suffering from livelihood-related distress but also exploring newer avenues.
Studies suggest that all major crises expose rural residents to new pressures. And while migrants have been vulnerable to the vagaries of the informal economy for years, the pandemic has brought their plight to the forefront like never before. As India's rural and informal sectors cope with the aftermath of the pandemic, it is worth noting that this is neither the first not the last crisis for migrant workers and rural communities. The lessons that we are learning are just as applicable to the impact that ongoing global and national events—such as rising fuel prices and inflation—have on their lives and livelihoods.
—
Know more