Nonprofit leaders and project managers are expressing a growing need and intent to transform their organisations and projects digitally. Many nonprofits working on large-scale projects, especially in partnership with state or central government departments, are already adopting tech into their programmes. And yet with most of the nonprofits we encounter we see that by and large there is a lot of trepidation when it comes to tech solutions and data analytics, perhaps caused by a feeling of under-preparedness. Put simply, nonprofit leaders want to leverage tech better, but don't always know how to go about it. Many also view tech as a costly overhead, one that is better avoided until funders demand for it and want to pay for it.
But there are ways to digitise that need not be complicated
We must first understand what digitisation means in the context of a nonprofit. Based on our experience, the following categories broadly cover almost all digitisation requirements of nonprofits:
Office automation
Payroll and HR management
Accounting and finance
Inventory or asset management
E-mail and internal communication
Fundraising and communications
Website development
Social media engagement
E-mail and newsletter communication
Retail or individual fundraising
Crowdfunding campaigns
Project and grant management
Grant management (to track funds available, disbursed, utilised, etc.)
Core project operations management
Project monitoring
Task management
M&E data collection and analysis
Nonprofit partner due diligence
Stakeholder management
Donor reporting
Volunteer engagement
Beneficiary engagement
Employee learning and development
There are sector-specific use cases as well, such as patient case management when it comes to healthcare or learning and classroom management in the case of education.

Recognising what to invest in requires some reflection so you can identify challenges and roadblocks of colleagues, which may be alleviated with the use of tech. While tech adoption may not (and should not) be an immediate answer to all problems, it can certainly be helpful when implemented to address the right questions. For instance, will some digitisation in this area save the team's time, cost, or effort? Will it improve the team's efficiency? Will it make some critical information available on real-time basis? Will it help the project or organisation scale up the work? Such questions are important when evaluating and prioritising what tech to introduce.
Should you build software from scratch or rent a licensed software?
For all the use cases mentioned earlier, there are many off-the-shelf systems available in the market. While these systems may not meet your ideal specifications, look, and feel or user experience requirements, they often cost less and can be implemented much more quickly than those that are built from scratch. And since most of these solutions have a trial version available, often for free, you can get a better sense of the product your team will use right from day 1. Moreover, most of these solutions are available on a monthly subscription basis.
In cases involving very customised solutions driven by step-by-step processes of large-scale and long- term programmes, off-the-shelf systems will not meet your critical requirements. And they will have limitations around modifying or heavily customising their products. In such a situation, the effort and cost of building out a custom solution can be justified.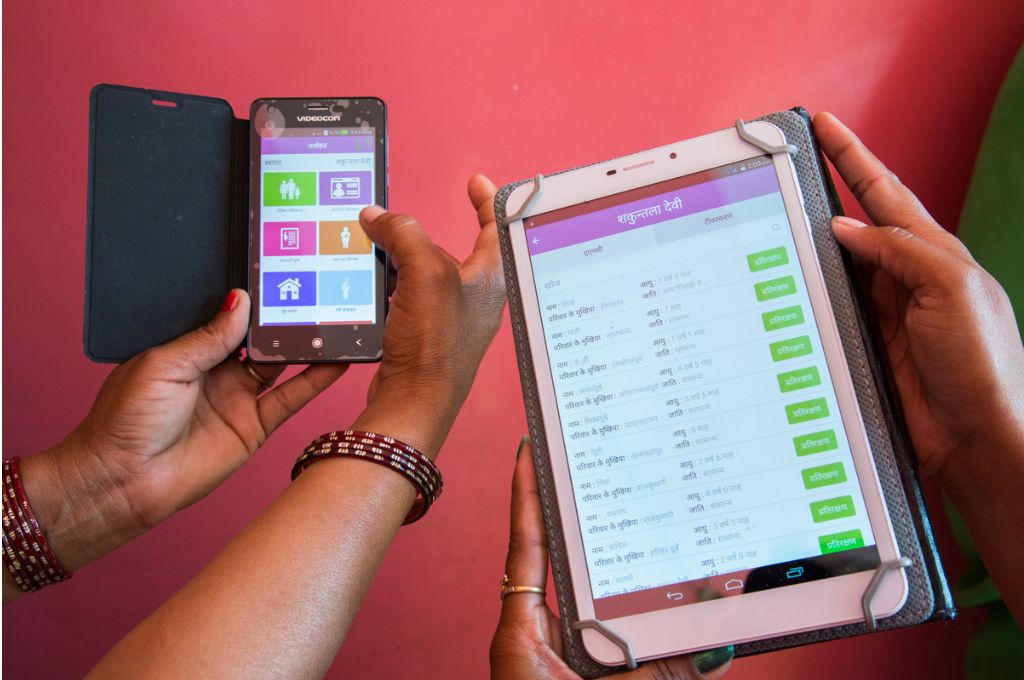 Seven things to remember when digitising
1. Do not digitise unless your processes are mature
If your organisation, project, or processes are new or continuously evolving, avoid digitisation until you reach a stable state. This is important, because digitisation during the nascent stages of any endeavour often leads to a lot of reworking at later stages, and it's difficult to adapt a product that's already been built out, which over time makes teams less motivated to use the product.
2. Start small, and grow step by step
If you want to digitise processes across your organisation, start with the key verticals or projects. Focus on initial adopters in the beginning, and once the tech has been validated you may scale it up across other teams or projects. For instance, if you have a requirement for M&E data collection, analysis, and visualisation on a dashboard, you can consider introducing a mobile app to digitise data collection. Following this, you can digitise data analysis and visualisation once data collection systems are stable. Solve the core, tangible problems first—this helps with getting buy-in from team members as well.
3. Build for scale
Your digital solutions should be able to scale alongside the growth of your team and geographic presence. And this should happen without dependence on your tech vendor. Additionally, larger team sizes and projects often require role-based or restricted access to data. Given this, the tech you build should have a self-configurable user management and permission module.
4. Give it time to stabilise
Do not expect magic from a new IT system overnight. Any new system will often face resistance, given the change in behaviour that it requires and the fact that it is human nature to resist change. For these reasons, always plan a change management process so you bring in key stakeholders from the beginning and they understand how the new system will benefit them. In our experience, it takes any new IT system at least three to six months to stabilise.
5. Assess your own tech maturity and foresee challenges
At Dhwani, we classify organisations into three categories based on their current tech adoption.
Low or no tech adoption: First-time tech adopters or very basic tech adoption till date. Here teams are usually not comfortable with an IT solution being introduced.
Mid-level tech adoption: These organisations have some IT systems in place for a few verticals or projects, but most systems are used for only basic reporting and operate in isolation from one another. These teams are comfortable using tech solutions for basic daily activities and are accustomed to some existing systems already.
High-tech adoption: These nonprofits have a set of IT systems in place. Teams use multiple tech systems already, and there is a dedicated team taking care of the digitisation needs on a proactive basis.
Based on the tech maturity of your organisation, it's helpful to foresee what type of challenges your teams may face and prepare in advance accordingly.
6. Invest in tech capacity building
When it comes to tech adoption, building the capacity of the leadership team and middle management is crucial. It enables them to articulate digitisation needs clearly, jointly identify a suitable solution with their vendors, put the IT system's use in the right context for the larger team, and ensure that their teams understand the features and limitations of the tech solution correctly.
7. Budget for IT systems in your funding proposals
We have seen that budgeting for IT solutions is not done as a separate line item in most funding proposals. This is understandable given the competition for limited funds from a handful of donors. However, this is not ideal because often after a proposal has been approved, if the team feels the need for digitisation, there are no budgets to execute. And so, frequently, IT costs fall within the already tightly managed admin cost bucket of the organisation. This leads to cost cutting or pooling of funds from other sources. Instead, if funders are more proactive in funding IT solutions, nonprofits will gain confidence in trying out new solutions that cater to their needs.
Digitisation can be done quite efficiently if the organisations spend sufficient time to first understand their needs clearly, assess their own tech adoption challenges, build internal capacities for tech adoption, try out some off-the-shelf solutions wherever possible, and give these solutions sufficient time to stabilise. To encourage this tech adoption, tangible support by funding organisations will go a long way.
—
Know more
Read this series to learn more about how the social sector can apply digital strategies to be more effective.
Read this article to learn more about how donors, nonprofits, and intermediary organisations can better integrate tech into social sector work.
Read this article to learn about some common challenges nonprofits face when adopting tech, and ways to tackle them.