My name is Manpreet Singh, and I am a network marketing distributor at Mi Lifestyle Marketing Global, a direct selling company based in Chennai that deals in personal care products. Prior to this, I was working as a technician at Maruti Suzuki's manufacturing plant in Manesar, Gurgaon for three and a half years.
I am from Mithri Budhgir village in Bathinda, Punjab and I belong to a family of tenant farmers. My father, who now works as a driver, used to take agricultural land on lease and work on it. These days, my father and I have been volunteering at the farmers' protest at Delhi's Tikri border, where thousands have gathered to protest against the three farm laws passed by the central government in September 2020.
It hurts me when people try to malign the movement by saying that those protesting are only rich farmers or aren't farmers at all.
I have been to the Tikri border protest site twice, staying there for three to four days on both occasions. I have witnessed first-hand, how worried farmers are about the new laws ending a system of guaranteed prices for their produce and pushing the agriculture sector under the control of private corporations. It hurts me when people try to malign the movement by saying that those protesting are only rich farmers or aren't farmers at all. I have seen these farmers braving the biting cold and unsanitary conditions, among other issues to sustain the protest. Many of them don't even have proper clothes and shoes to wear.

5.00 AM: I wake up early because I plan to visit the Tikri border, which is more than 300 kilometres away from my village. I had packed my clothes and other essentials the previous night. My father accompanied me the last time I went to the Tikri border to volunteer, but won't be able to join this time around.
5.30 AM: As I freshen up and get ready, I hear an announcement from the loudspeaker of the local gurudwara (Sikh temple). It informs the villagers that the tractor-trolley (a tractor with trolleys attached to it that transports supplies and people to the protests) has been loaded with supplies and will leave in some time. I head over to the lawn of the gurudwara, where the trolley is parked, and take a seat in the vehicle decked with colourful flags.
The floors of the trolleys are lined with carpets and mattresses and tarpaulin sheets are used to create temporary roofs. The trolleys contain logs, sacks of wheat flour, rice, and pulses, cartons of packaged water, bags of disposable plates and cups, and several boxes of medicine. The villagers, in addition to cash donations, have donated these essential supplies for the protesting farmers. My family has donated wheat flour.
6.00 AM: Having heard the announcement, several villagers gather at the lawn to bid farewell to the volunteers and cheer us on as we leave.
Behind the more than two-month-long protests is an organised network of volunteers from villages in Punjab and Haryana, supplying the protestors with essential commodities. Our village has sent two tractors along with trolleys to the Tikri border. When one returns to collect supplies from the village, the other one leaves with essentials and volunteers.
Volunteers register their names days in advance expressing their interest in going to the protest with the next batch. There are 25 of us this time around.
7.00 AM: As we reach the highway, some of us settle down and catch up on some sleep, while others chat among themselves.
9.00 AM: We stop at a dhaba (roadside restaurant) to have some tea and breakfast. The owner of the restaurant has been kind enough to offer the meal for free. He says that this is his way of contributing to the cause. He also donates a sack of wheat flour and some vegetables for us to take to the protest site. We have come across several shopkeepers who refuse to take money for commodities we purchase for the protesters or give considerable discounts.
9.30 AM: We leave the dhaba after loading the supplies.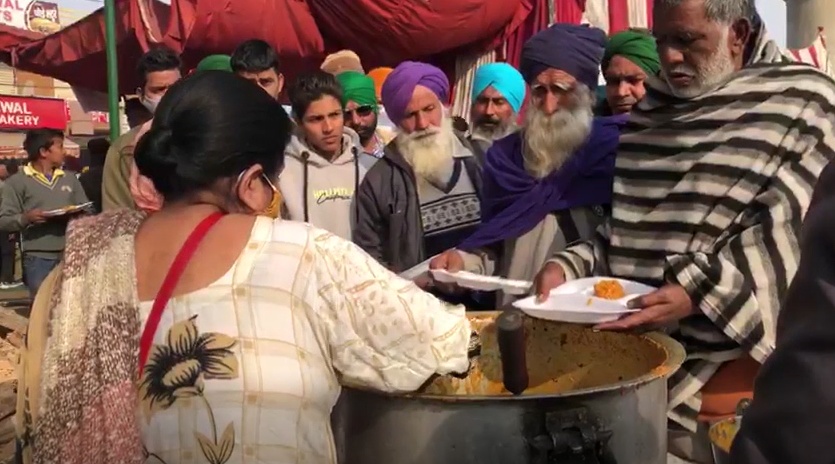 11.30 AM: We reach the Tikri border and we are greeted by farmers and fellow volunteers. After parking the tractor-trolley, we start unloading the supplies. These supplies are then distributed across the langars (community kitchens) that have been set up at the protest site.
Once that is done, I meet our village pradhan, who is returning to Mithri Budhgir today with the other batch of volunteers that had arrived before us. The pradhan, who is around 70 years old, has been an active participant at the protest. He even sustained injuries to his lower back when he accompanied protesting farmers to Delhi around two months ago. After being hit by a police baton, he came back, sought treatment, and returned to the Tikri border to join the protest.
12.30 PM: After bidding him goodbye, I go to a langar to help with the preparation of lunch. I ask the volunteers who are already there if there is anything specific that they would like me to do. They tell me that potatoes and peas need to be prepared. As I start peeling potatoes, other volunteers join me. While some of us peel potatoes, some chop them, and others collect them in a sack and deliver it to the person cooking the curry. Once we are finish with the potatoes, we start shelling peas and the same cycle continues. As more people join, they start chopping onions, garlic, and so on. This is how the langar operates through the day.
It solely depends on voluntary work and there is never a dearth of volunteers. We did not have to set up any new structure to support the protests. At many gurudwaras, langars are run on a daily a basis. Feeding people and sewa (selfless service) is part of our religion.
2.30 PM: Once the meal is prepared, we transfer the curry, rice, chapattis, and dal (lentils) to smaller containers and set them up on tables placed outside the langars. We then start distributing the food to those who have lined up to eat.
3.30 PM: After feeding a few batches of people, I stand in the same queue seeking food.
4.00 PM: Post lunch, I join another volunteer who is cleaning the protest site. I pick up litter which mostly consists of plastic wrappers, disposable plates, cups, spoons, bowls, and so on, and put it into a bag. When the bag fills up, I dump it in a municipal garbage bin nearby.
As we do this, some people sprinkle water on the road while others sweep it with brooms.
5.30 PM: I take a break and sit in front of the main stage of the protest to listen to a group of women farmers address the crowd. These women have come from a village close to ours.
6.15 PM: With the evening approaching, I head back to the trolley to get my jacket. I notice an old man trying to get some hot water out of the wood-fired water geyser. I stop to help him. I collect some wooden logs and fire up the geyser. Within minutes there is hot water coming out of it. I fill up a bucket and take it to the elderly farmer's tent.
These geysers, often called 'desi-geysers' have a hole in the middle to burn the wood, a funnel-like inlet on one side to pour in cold water, and an outlet on the other side that releases hot water. These geysers have really helped the protesters survive Delhi's chilly winters.
7.30 PM: I head back to the community kitchen and this time around, I help with preparing chapattis. While one person rolls out the balls of dough, I bake the chapattis in a clay oven.
9.00 PM: I have my dinner, wash up, and go to the trolley to get some sleep. As other volunteers come back, we chat about the day's events and what we plan on doing the next day.
Some of my friends and colleagues question my involvement in the protests as I am not a farmer.
Some of my friends and colleagues question my involvement in the protests as I am not a farmer. But I feel that it is important to extend support to the movement as we consumers will eventually feel the ill-effects of these laws that seek to deregulate the agriculture sector. Our lives are intrinsically linked to that of the farmers and we need to understand that.
We must all go to the protests and contribute in whatever way we can to ensure that the three farm laws are repealed. Our presence will boost the morale of the agitating farmers.
As told to IDR.
—
Know more
Watch this four-part video series featuring farmers, investors, and other stakeholders to understand the impact of the farm acts, and why farmers are protesting.
Watch this video on the role of women farmers in the protest at Delhi's Tikri border.
Read this article on how India's rural income has declined over the years.