---
A cattle-killer in Kachchh: Pastoralists struggle against a new disease
Kachchh district, Gujarat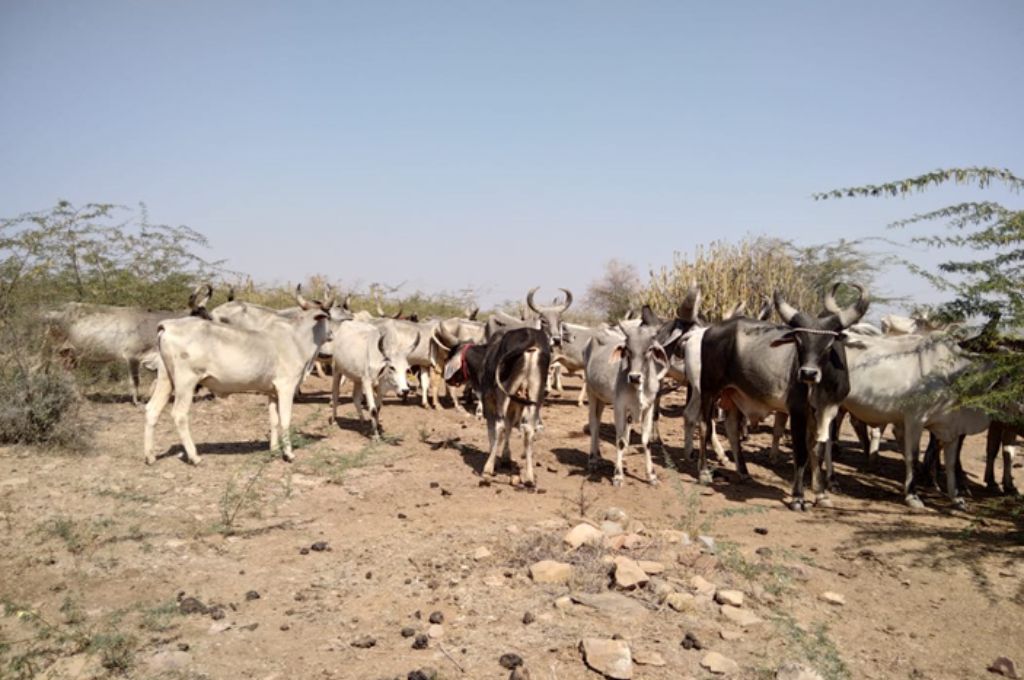 The Banni grasslands, known for their rich wildlife and biodiversity, are situated in the Kachchh district of Gujarat. The majority of the population comprises the maldhari (pastoralist) community that owns a variety of livestock, including the Banni buffalo and the Kankrej cattle. The maldharis have been rearing the Kankrej cattle for generations as part of their culture, seasonally taking long-distance migration routes in search of fodder and water that are essential for the survival of the cattle.
However, since the 1980s, when milk dairies were introduced in the region, the landscape has witnessed major changes. Most of the cattle keepers and herders have either settled outside of Banni or replaced their cattle with buffaloes. Selling buffalo milk is more profitable, but this isn't the only factor. For decades now, an invasive weed species—gaando bawar (Prosopis juliflora)—has caused an intestinal disease among cows, resulting in their death. To make matters worse, in 2022, the first rains of the Banni grasslands brought with them the lumpy skin disease, which impacted most of the cattle in the region. Misriyado village in Kachchh district lost almost 100 cows during this time.
"It has become increasingly difficult to keep the cows, as in my entire lifetime I have not seen them suffer from such a disease," says Majna kaka, a resident of Misriyado. He lost 15–16 cows in a span of just five to seven days. "Rearing these cows is too much work—we travel distances for them, nurture them like family, and unfortunately still can't save them," he adds.
Veterinary doctors vaccinated the cows, but it made no difference. Miyal Halepotra, a resident of the neighbouring Neri village, who lost 40 cows in merely 10 days, says, "I resorted to the desi treatments that we've been practising for a long time; we were still unable to save them."
As he prepares to migrate with his cows for grazing, he thinks they have grown weak. "The cows are still recovering and have some scars that are yet to heal. It is difficult to travel long distances with them as they have trouble walking."
The herders believe that a change in the air and weather pattern is the cause of disease in their cattle. Over the years, they have lost grassland, quality grass, and water, but support from the state government has been hard to come by. They submitted an application for help and compensation to the district collector's office, but till now no relief has been provided.
The maldharis live under precarious conditions. They lack access to healthcare facilities and schools for children. They have continued to look after their cattle because it is tradition for them. But without any support or incentive, how long can they go on?
Astha Chaudhary and Dipti Arora are research scholars studying human–wildlife interactions in Uttar Pradesh. They are associated with the Coexistence Consortium.
—
Know more: Learn what is killing thousands of pigs in Assam.
Do more: Connect with the authors at [email protected] and [email protected] to learn more about and support their work.