In the East Midnapore district of West Bengal, hundreds of coastal villages are inhabited by fishworkers. The livelihood of these fishing communities is now under threat due to erosion caused by climate change and government development projects, such as a coastal road that is being constructed to connect beaches in Digha, Tajpur, Shankarpur, and Mandarmani.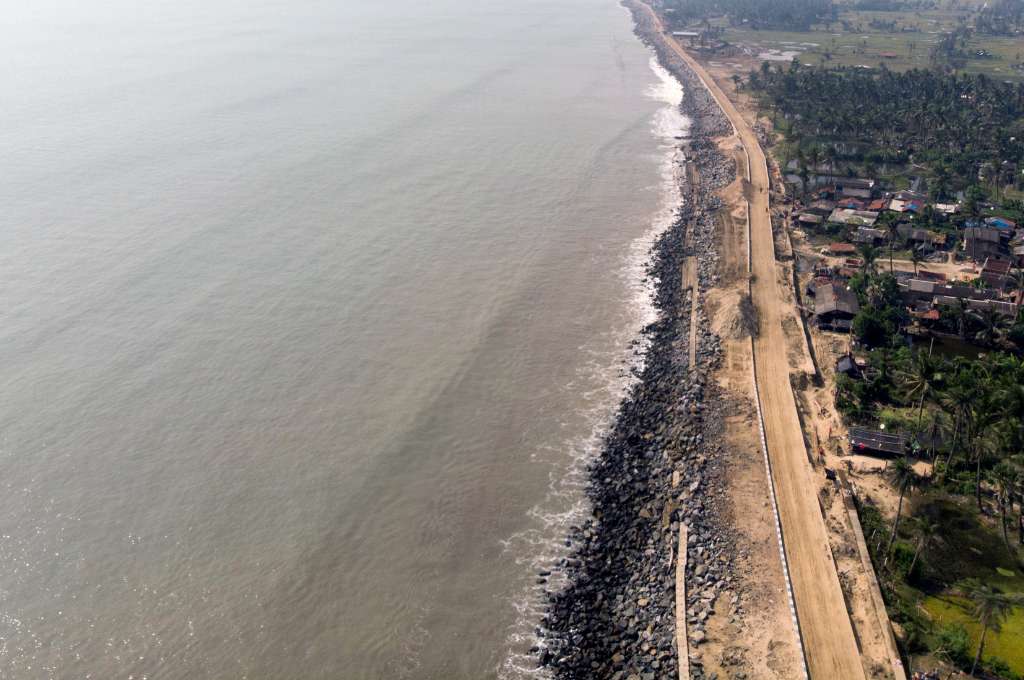 Fifty-two-year-old Kabita Pradhan is a fishworker living in Baguran Jalpai, a coastal village in East Midnapore. In October 2022, tropical cyclone Sitrang was predicted to hit the coast of Bengal. Kabita's six-member family evacuated their temporary fishing hut and moved into the nearest cyclone shelter. Sitrang did not hit the coast of Bengal and Kabita's family did not lose their home, but they have faced many other instances of erosion and coastal flooding in the last decade. "We always live with the anxiety of facing a storm, flooding, and damages. In 2021 we lost everything when cyclone Yaas hit the shore with 100 kmph wind speed. On the one hand, the fish stock has depleted, and on the other, the climatic conditions leave us vulnerable," she said.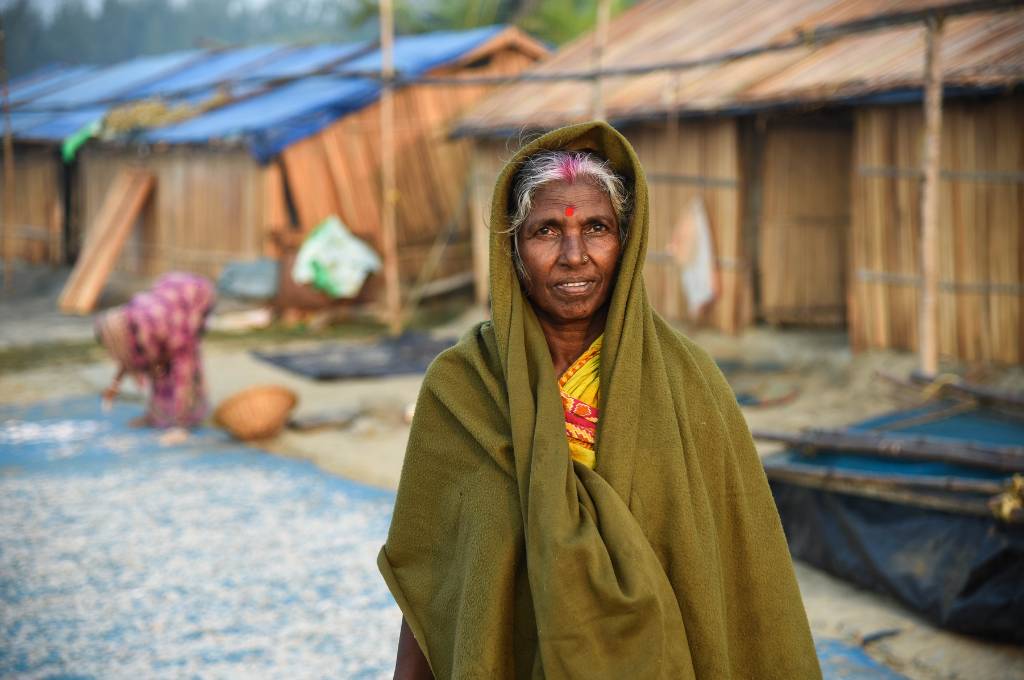 Declining fish stocks lead to a livelihood crisis
To compensate for the loss in earnings from fishing, Debabrata Khutia, another fisher in Baguran Jalpai, started farming on his land. "Earlier we used to hire labourers to work on our boats, but this is no longer possible if we want to make a profit. In the last few years fishing has become unprofitable, so we have shifted to farming to survive," he said. The number of people in the state who are dependent on coastal fishing and allied activities for their livelihood is approximately 400,000. He further elaborated that 90 percent of them have shifted to agriculture-related activities or migrated to other states for better opportunities.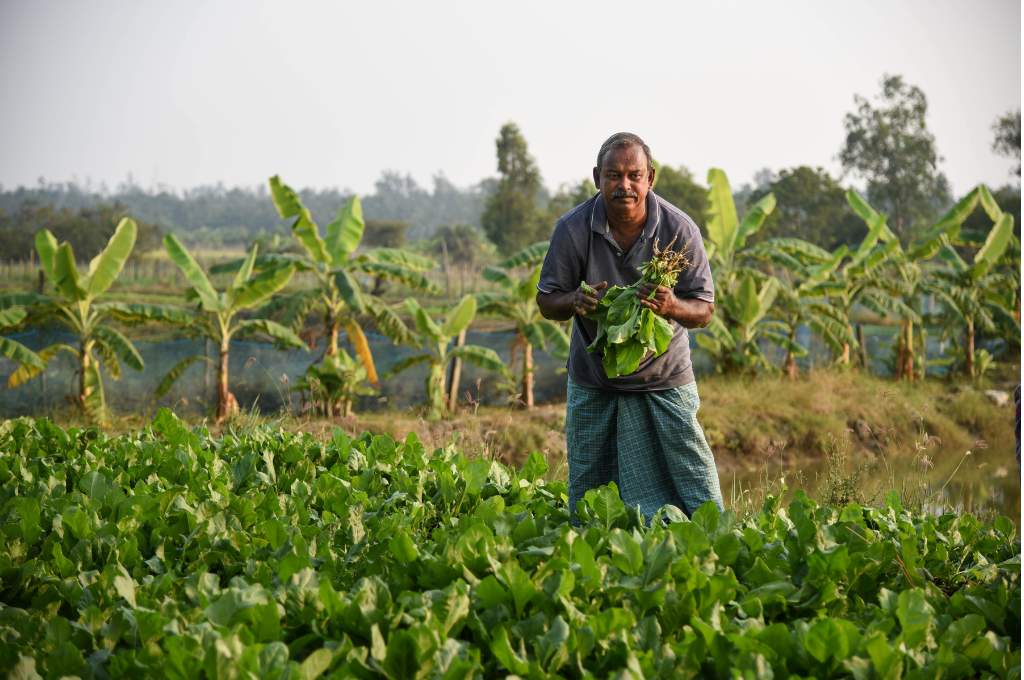 According to Debabrata and other small fishers, an excess of licensed fishing trawlers is responsible for declining fish stocks. From the estuary of the Ganga to deep in the Bay of Bengal, approximately 15,000 trawlers are hovering and blocking the route of fish. Bottom trawling is prohibited up to 12 nautical miles from the coastline, but small fishers in East Midnapore allege that trawlers start trawling just 1 km from the coastline. This has threatened the livelihood of traditional small fishers.
Santosh Bar, a small-scale fisher at Jalda matsya khoti (a fish landing centre that is managed by the fisher community) near Tajpur, explained that while trawlers can go fish in the sea, fishers that follow traditional and sustainable practices face limitations. "In our traditional practice, we cannot move beyond 3–5 nautical miles from the coastline. We tie our boats to a pole and spread our nets across an allotted area, but trawlers have no such rules. They trawl the seabed wherever they want," he said.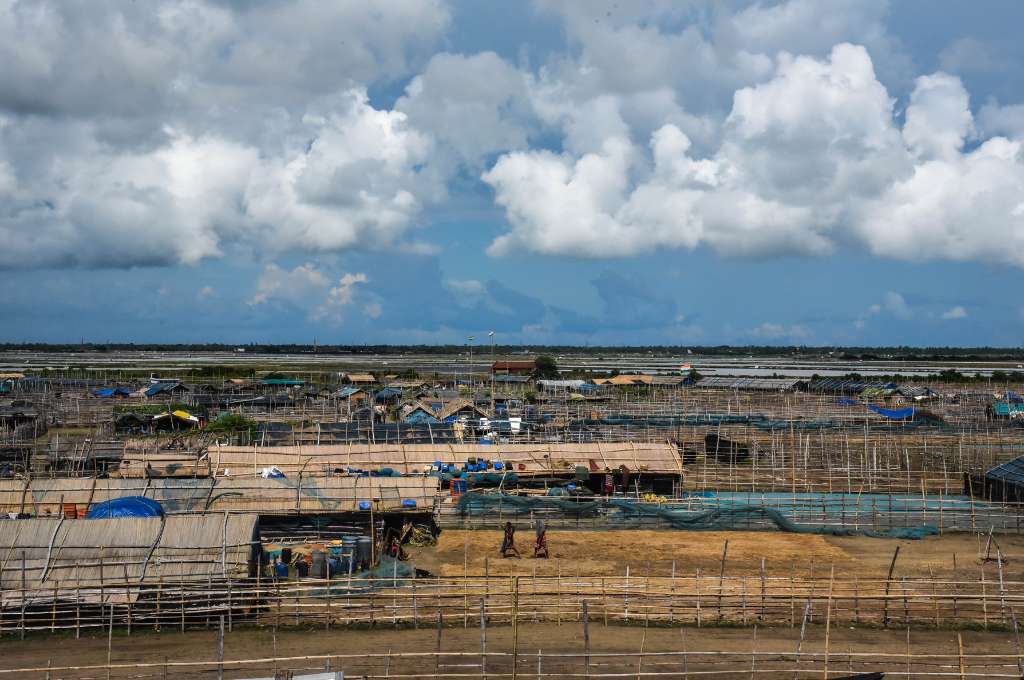 Debasish Shyamal, president of Dakshin Banga Matsyajibi Forum (DMF), a small-scale fishermen union in South Bengal that focuses on the rights of coastal fishworkers, said, "The production rate in marine fisheries in West Bengal has seen a decline in recent years. According to data from the department of fisheries, in 2017–18, fish production in the state was 1.85 lakh tonnes. The volume of fish production reduced to 1.63 lakh tonnes in 2018–19 and 2019–20."
Debasish said that climate change and unplanned developmental projects have impacted the livelihoods of small-scale fishers in the region. He explained, "The annual fishing period (typically September to March) has reduced due to frequent cyclones. Additionally, coastline developmental projects in Digha, Shankarpur, Mandarmani, and Tajpur have created erosion, which has led to the shrinking of fish-drying spaces for fishing communities."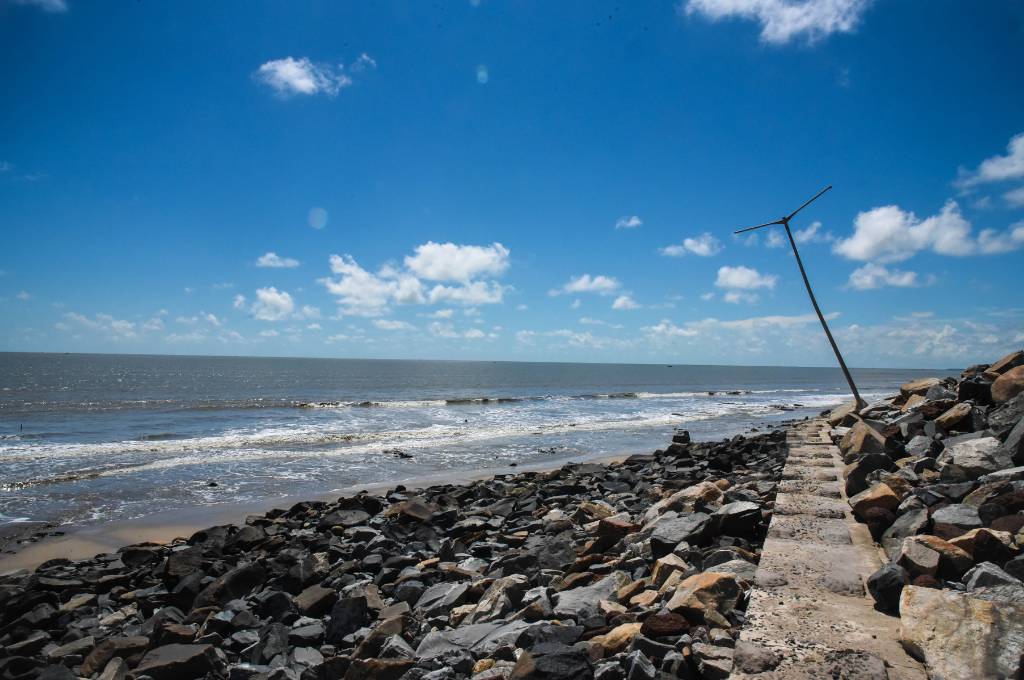 The Marine Drive project further threatens the community
The Marine Drive development project, which began in 2018 to boost tourism in Digha, Tajpur, Shankarpur, and Mandarmani, entailed an investment of INR 173 crore. Locals claim that the 29.5 km-long coastal road threatens to disrupt the lives and livelihood of thousands of fishers as well as the fragile coastal ecology of the region.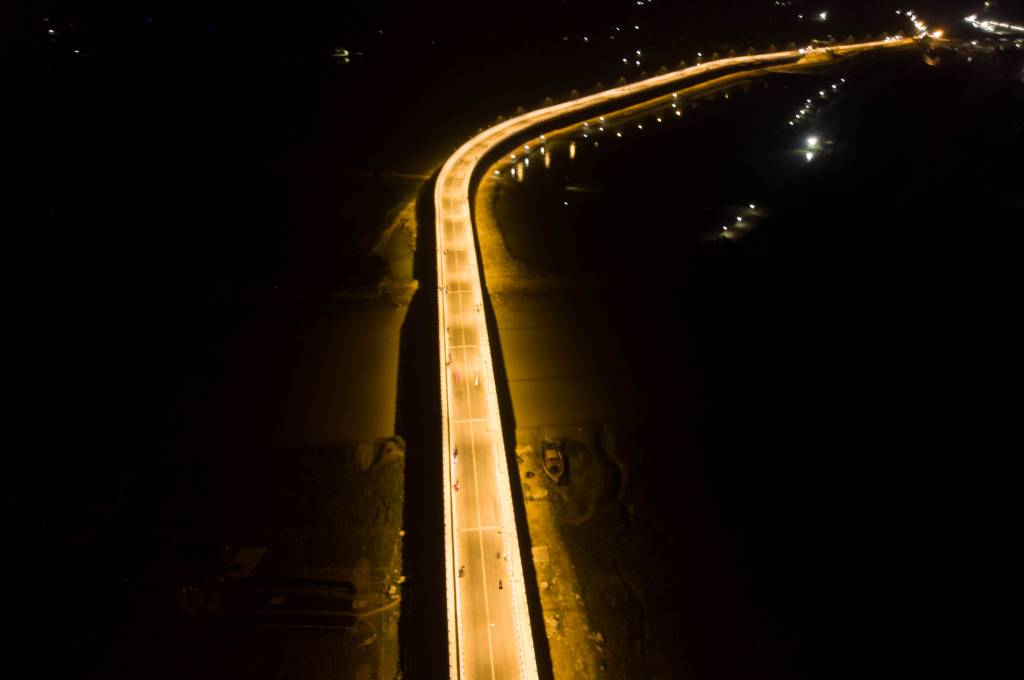 The newly constructed road near Tajpur was washed away when cyclone Yaas hit the shore in May 2021. "The sea was approximately 2 km away from its current position. Earlier tourists would come regularly and there were around a hundred stalls on the Tajpur beach, but none of them are here today because of erosion. In the last few years the shore has shrunk," said Suranjan Barai, a local shop owner at Tajpur. A report by the National Centre for Coastal Research released in 2018 said West Bengal recorded the maximum erosion at 63 percent, followed by Puducherry at 57 percent, Kerala at 45 percent, and Tamil Nadu at 41 percent.
Srikanta Das, a traditional fisher from Dadanpatrabar matsya khoti, said that the Marine Drive project started without consulting small-scale fishers, who are significant local stakeholders. "In early 2018, we heard a double-lane road will be constructed along the coast. Since then we started asking government departments about their plans as we (small-scale fishers) live on the shores and use it to dry fish for six months." Srikanta claims that the government department has neither plans nor maps. "We filed applications under the Right to Information Act to get the actual map and detailed project report, but we haven't received anything from the authorities. This project does not have coastal regulation zone clearance," he added.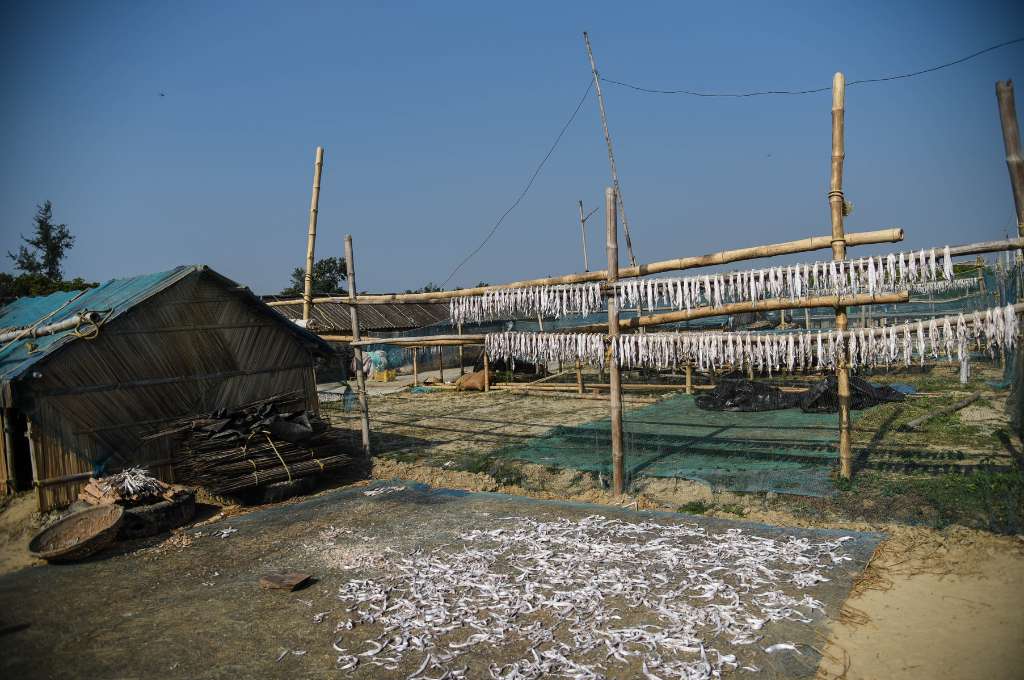 Small-scale fishers like Srikanta protested and stopped the construction work at Dadanpatrabar when roads began to be built in the middle of their fish-drying area. Saraswati Das, a fishworker, said that approximately 4,000 families live in Dadanpatrabar khoti. They have not been informed that the construction of this road will leave them homeless, and they have not yet been provided any alternative to fishing and fish drying. She also claims that there are 10 more khotis that will be displaced if the government starts building roads for the Marine Drive project. Currently, three bridges at Nayakhali, Jalda, and Soula have been completely constructed. Work is stalled at Dakshin Purosottampur village near Dadanpatrabar khoti due to protests by fishworkers.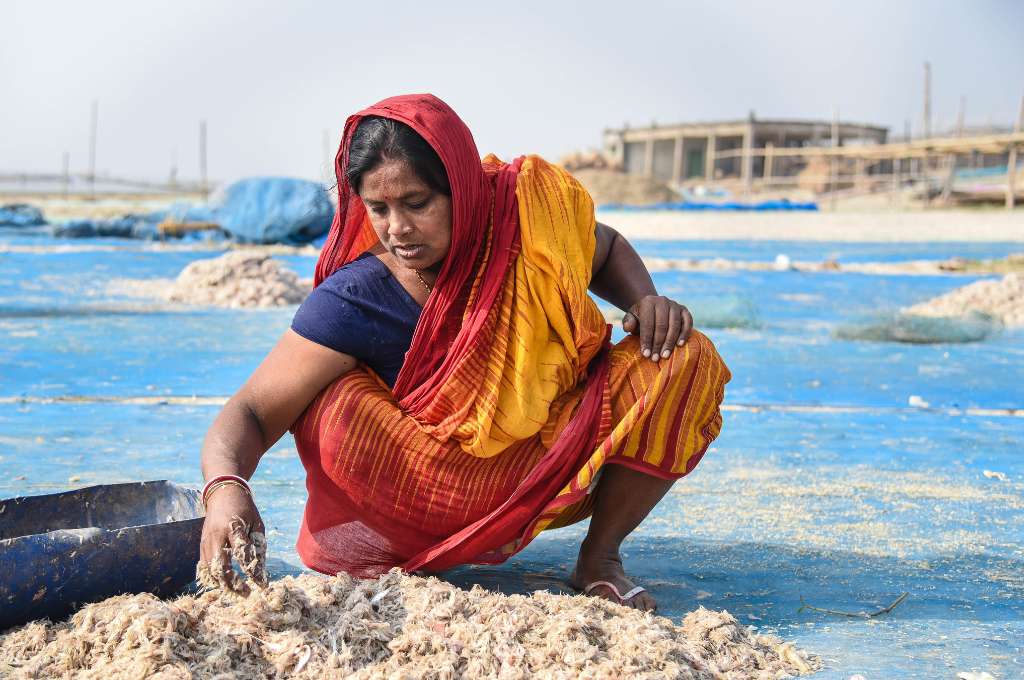 Villagers of Dakshin Purosottampur mostly practise agriculture, along with seasonal fishing. They claim that approximately 25 bighas (1 bigha is 27,000 square feet) of agricultural land belonging to 27 villagers has been acquired for the Marine Drive project. "I lost 6 decimal (1 decimal is 435.6 square feet); another villager lost 3 bighas to the road. We have urged the government department to compensate for our losses, but nothing has happened," said Biren Jana, a villager of Dakshin Purosottampur. Biren further explained that they had agreed to give up their land for development but with due compensation.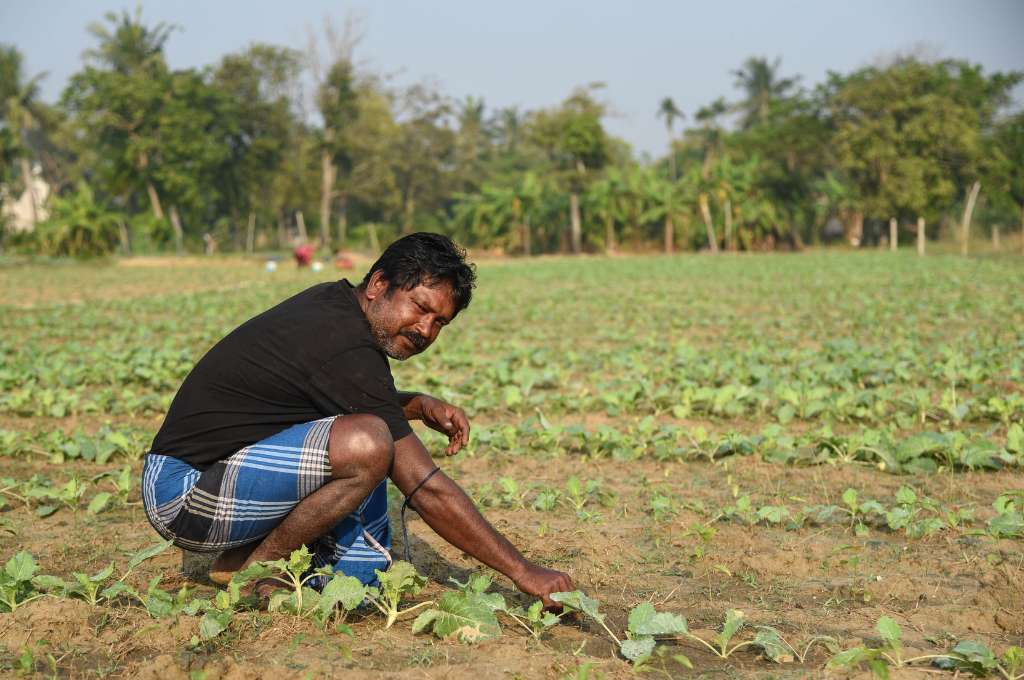 Akhil Giri, a local member of the legislative assembly, said that the government is aware of these issues. "The road has been diverted in a few places to avoid conflict with the communities. The government will not acquire anyone's land without their consent. Those who lose their land will get compensation; the process is ongoing." He further claimed that the road was constructed for the benefit of the fishing community. "They can now easily transport dry fish from their khoti," he added.
Debasish said that the government is always planning environmentally destructive projects along the sea, but never includes the local fisher community whose lives depend on the sea. "Earlier we have seen the nuclear weapon launchpad project in Haripur, and recently the construction of the deep-sea port at Tajpur has been approved. Even the Marine Drive project is being pushed by the state government to promote corporate interests on the grounds of tourism development. We believe that these projects will never give us proper employment and cannot be an alternative livelihood to small-scale and artisanal fishworkers."
All pictures courtesy Tanmoy Bhaduri. The story has been produced as part of Youth for the Coast Fellowship supported by Delhi Forum.
—
Know more