Social structures have always played a role in widening economic divides, and the COVID-19 pandemic made matters worse for those marginalised by gender, religion, caste, and their intersections. Muslim women, who constitute only one-tenth of the working women population in India, bore the brunt of hate campaigns, hiring biases, and state-sanctioned demolition drives.
We spoke with nonprofit leaders and activists working with Muslim women workers in India and found that even though all women from the community faced challenges in finding and sustaining employment, their struggles varied based on factors such as their socio-economic status, level of education, and the sector they were employed in.
Muslim women from the middle and upper classes with higher education degrees did comparatively better and even saw some positive developments during the pandemic, while those from low-income groups struggled for money and had to start working to make up for the loss of family income. The migrant workers in the informal sector were the most disadvantaged because in addition to the other challenges, they lacked a social security net. In a way, the pandemic again showed that even within the marginalised communities, one's social location plays a critical role in defining lives and livelihoods.

A section of the population fared better
Deepanjali Lahiri, chief operating officer of LedBy Foundation—an incubator that works on building leadership among college-educated Muslim women—thinks COVID-19 had a positive impact on the people they work with. She says, "While the pandemic has had many other repercussions, remote work has actually played out quite well for the LedBy cohorts. Many of the women we work with had restrictions on their travel earlier. During the lockdowns, a number of them said, 'I am able to work comfortably because I can do it from home.'"
Since the pandemic made remote work a possibility, young Muslim women from Tier-I and Tier-II cities—whose families were otherwise wary of letting them go to metropolitan areas in search of work—were able to tap into the job market. In fact, the participants of LedBy's leadership programme continue to negotiate for remote and hybrid work even as employers are reopening physical offices. Deepanjali worries that as jobs go offline again, seeking employment may be difficult for hijabi Muslim women as some employers have previously asked them to do away with the hijab at workplaces.
However, only a fraction of the Muslim population in India has the higher education required for formal sector jobs, where employees have the luxury of remote work. The majority of Muslims in the country are employed in the informal sector, where there are fewer choices and safeguards.
Demolition and job losses changed low-income Muslim neighbourhoods
Muslim women workers faced targeted campaigns that accused the minority community of waging 'Corona Jihad'—wilfully spreading the COVID-19 virus among people from other religions. There were calls for the economic and social boycott of Muslims. A study on the effects of the first lockdown on informal women workers in Punjab documented several instances of Islamophobia. It noted that a Muslim woman who ran a grocery store with her husband reported incurring losses during the pandemic because of social ostracisation.
The community also suffered due to the 'anti-encroachment drives' that became a norm during this time in states such as Delhi, Uttar Pradesh, and Madhya Pradesh. While the governments stated that these were meant to clear the footpaths and streets, critics pointed out that the demolitions indiscriminately targeted low-income Muslim neighbourhoods.
Shabnam Nafisa Kalim, the founder of Khair Help Foundation—a nonprofit that works on education and women's empowerment in areas such as Delhi's Jahangirpuri—says, "There were five or six women who would set up stalls to sell perfumes and such items in the market. So at the time of the demolition, whatever they were selling also got bulldozed along with the stalls. And 15–20 thelas (carts) of kebab, biryani, etc. were also damaged."
The women of the family came together to supplement the men's income.
As the neighbourhoods faced the double salvo of pandemic and loss of property, incomes plummeted. According to Shabnam, "Families that previously had a monthly income of INR 15,000 had to make do with INR 10,000. Those who had been making INR 10,000 were not even able to make INR 5,000."
There were instances where the women of the family came together to supplement the men's income. Shabnam cites the example of a woman in North East Delhi's Khajoori Khas area. She started earning during the lockdown and ran the household by stitching denims and processing bulk orders of clothes. Shabnam says, "For six months, she and her daughter ran the household before her husband took up driving an e-rickshaw in 2022." During the lockdowns, more Muslim women—even in low-income households—started working, and many of them continue to do so. Shabnam adds, "Even those who didn't work earlier, and whose husbands were the sole breadwinners, are now working. It has become fifty-fifty."
Khair Help Foundation works in Muslim neighbourhoods where women are self-employed. Since their businesses serve the locals, they don't face religious discrimination in the way that Muslims working in non-Muslim areas do. But what about the migrant Muslim women workers who not only deal with religious persecution but are also invisibilised in government records and left out of welfare programmes?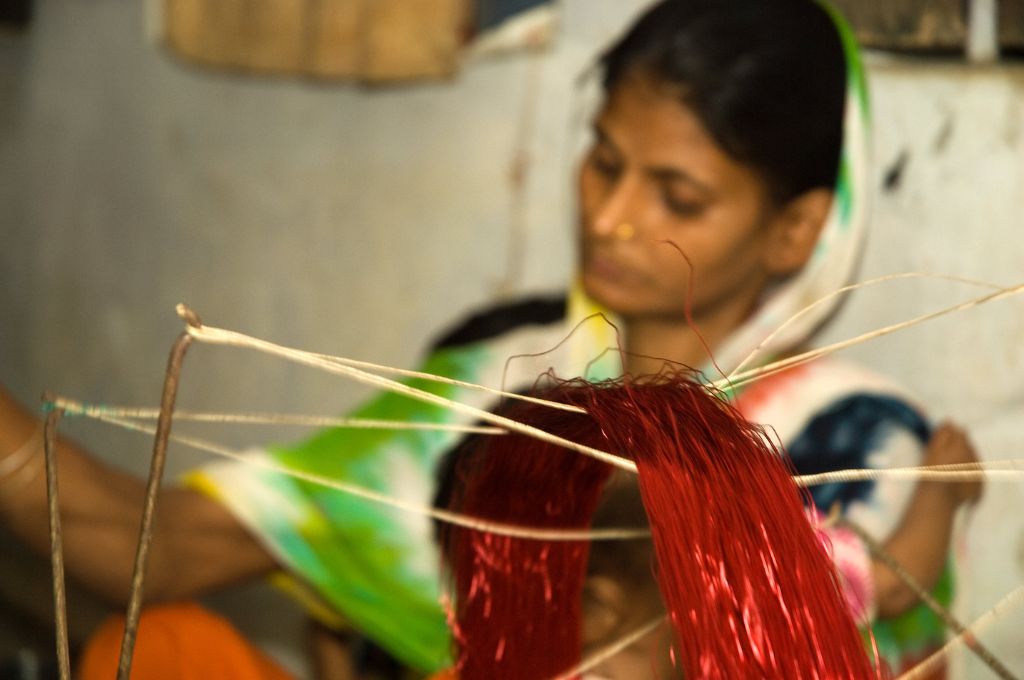 Migrant Muslim women remained invisible
Shreya Ghosh, a member of Sangrami Gharelu Kamgar Union (a domestic workers' union active in North India) and Migrant Workers Solidarity Network, says, "Most of the migrant Muslim women are employed in domestic work such as cooking and cleaning, and a few of them are in garment manufacturing and construction. In fact, 65–70 percent of domestic workers in our union are Muslim, and the rest are mostly Dalit."
Domestic workers were among those most affected by the lockdowns. They faced job losses as movement was restricted and even criminalised and, according to a survey conducted in eight states of India in 2020, 85 percent of them went without pay.
During the lockdowns, there were many reported incidents of domestic workers facing extra surveillance and increased violence and abuse.
Shreya says, "Since migrant Muslim women are mostly employed as domestic workers, this also meant that they suffered more."
During the lockdowns, there were many reported incidents of domestic workers facing extra surveillance and increased violence and abuse. Shreya says, "In gated communities, it was mandatory for the domestic workers to pass through sanitising shower counters. Residents were not asked to do that. This definitely meant that you were considering the domestic worker to be the carrier of the virus."
According to Shreya, employers prefer to hire migrant domestic workers because they charge less and often stick around. "At the height of COVID-19 and reverse migration into villages, the domestic workers stayed back. Some waited for six months, others up to a year in the hope that things will go back to normal. Despite their struggle for food and rent in their adopted cities, they didn't leave because back home they have no land to cultivate, nor the resources to start a small business," adds Shreya.
What's the future of work for Muslim women?
The situation for domestic workers, and by extension migrant Muslim women workers, is not likely to improve even though COVID-19 no longer restricts movement in the same way. Their struggles will continue because they lack the protection of labour laws. Since 1959, several bills that would ensure basic safeguards such as fair wage, pension, and maternity and health benefits to domestic workers have been introduced in the Parliament. But none of them were passed as a law.
The migrant Muslim women workers also suffer from error of omission. According to the 2011 Census survey, 67 percent of the migrating population are women, and an estimated 11 percent of the women migrate with their families. This data doesn't show that many of these women who migrate with their husbands and families continue to work, even if they don't often see themselves as breadwinners. "If you ask the domestic workers they will say, 'We have migrated because our husbands migrated,' but they are all working women. It is a larger question of how women's labour is understood in our society," says Shreya.
There isn't enough data on interstate migration in India and the government failed to collect crucial information about loss of jobs and workers' deaths during the pandemic. Another critical gap is the lack of research on how identities impact livelihoods. Without data, how will government schemes, policies, and welfare benefits reach the population?
No one is doing in-depth research on Muslim women in the workforce.
Shreya suggests it is a wilful omission. "The government doesn't count them because it doesn't want to hamper the industries that are benefitting from the large-scale migration from some states to the special economic zones. They want the labour to be seen as a mass rather than individual citizens with their own set of challenges."
This lack of research is not limited to migrants. In 2022, Led By published a study on hiring biases against Muslim women in entry-level jobs. Deepanjali says, "We took up the study because we were tired of saying there's no actual data. No one is doing in-depth research [on Muslim women in the workforce]. For example, there is no research on the challenges hijabi women face at work in India, even though there are studies abroad that show rampant discrimination against them."
Nonprofits believe that only the government has the bandwidth to undertake research at a scale in line with India's vast and diverse geography and demography. Shreya says, "While we work among the workers, we don't have the kind of resources and reach that you need to conduct a comprehensive survey. It is the government's job. Even the most resourceful nonprofits can't undertake the kind of surveys that the government office can."
—
Know more