When the COVID-19 pandemic hit India, 12-year-old Rekha's father lost his job. The family lost their income and their home. They were forced to return to a small village in Rajasthan, where Rekha had no school to go to, no mid-day meal, and no menstrual hygiene products. A bigger concern, however, was her future. When an Educate Girls' volunteer visited the family and asked her parents when they were sending their children back to school, Rekha's father said, "I can barely afford to feed my family. My priority now is two square meals for my children."
This is the reality that families across India faced as the crisis deepened, and this is what confronted nonprofits throughout the length and breadth of the country. Before the pandemic, more than 4.1 million girls1 were not going to school across India. The closure of 1.5 million schools during the pandemic has further impacted over 247 million children enrolled in elementary and secondary schools.
It is now estimated that almost 11 million girls are at risk of dropping out of school. Even before the pandemic hit, one out of five girls would drop out of school in Rajasthan, and now due to COVID-19, 14.9 percent children have not even enrolled in schools. The case is similar in Uttar Pradesh, where 54 percent of girls are not sure whether they will return to school post the pandemic.

Nonprofits had to balance the reality of meeting immediate basic needs with anticipating the lasting impact of the crisis on the future of our children. The pandemic and the subsequent lockdowns pushed around 230 million people into extreme poverty in 2020. Consequently, many households in remote parts of India have had to reduce food intake and resort to child labour, forcing many young girls into early marriage and caregiving roles, and making them susceptible to violence and trafficking.
During the COVID-19 crisis, our work at Educate Girls gave us deep insights into the community, and we've had to navigate a very sharp learning curve. Over the last 18 months, more than 15,000 members of Team Balika—a group of village-based community volunteers involved in efforts to ensure education for girls—have worked closely with more than 2.3 lakh children through our community learning initiative called Camp Vidya, reaching 20,000 villages in 21 districts across Rajasthan, Madhya Pradesh, and Uttar Pradesh where 40 percent of India's out-of-school girls live.
Here are some of our learnings from the pandemic, and things we need to prioritise as we move forward so that children affected by COVID-19 return to school.
1. The sector must adopt a multipronged approach to ensure no child is left behind
The pandemic compounded existing inequalities in the country and impacted different subgroups disproportionately. We, therefore, need to adopt a planned, multipronged approach to ensure that children affected by COVID-19 in different ways continue their schooling.
We need to identify children who are permanently at risk of not returning to school.
For instance, for children who were already in school before the pandemic, we need to look at existing school records and ensure that they return without exception. Next, we have to identify new entrants who have attained schooling age, as well as the children of migrant workers who could not access schooling after shifting to a new location. Although difficult, we need to have a system in place to identify each one of them and encourage them to join school. We also need to focus on children belonging to transition grades, especially primary to secondary, where the dropout rates, particularly for girls, are high.
Lastly, we need to identify children who are permanently at risk of not returning to school. These would be children orphaned during COVID-19 and older girls who may now not be eligible for mainstreaming. For example, girls who turned 14 in March 2020 face the highest risk of not returning to school as they would have crossed the age eligibility criteria for admission as per the Right to Education Act. They are also most likely to be married off or expected to take up caregiving roles, further curtailing their return to school. We need an alternate education plan for these children.
2. Policymakers should focus on creating incentives to get children back in school
As we emerge from the pandemic, policies and policymakers must keep the most vulnerable communities at the centre of their thinking and strategy. This holds true particularly for girls as they are now more exposed to gender-based violence, early marriage, forced labour, trafficking, and so on. Therefore, a convergence in education, public health, and agency building is critical. Focusing on vocational training for girls and provision of healthcare and hygiene facilities in schools can be key components in this strategy. An urgent policy-level intervention is also required to make education compulsory for all girls.
More importantly, think tanks, researchers, and policymakers must look to create a set of incentives and support programmes that shift the focus back on education for marginalised communities. For example, schools can be incentivised and rewarded based on their capacity to accommodate children like Rekha from low-income households; the government can consider providing free education to girls up to graduation; more seats can be added in government-funded residential hostels such as Kasturba Gandhi Balika Vidyalayas; and plans can be made to accommodate and allocate extra resources for schools in rural areas where migrant children have returned so as to ensure enough food for an expanded population.
Building back better
To build back a better education system, our goal should be to recover the children that lost out on education during the pandemic. We need to put in focused efforts to reform and build back the system in a way that better accommodates the needs of all children, so that no one gets left behind.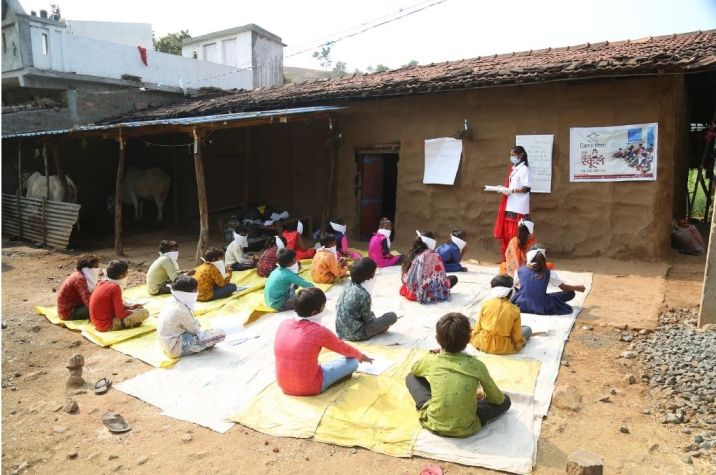 Our efforts should include:
Identifying gaps and assessing the current economic and educational status of the children through door-to-door surveys.
Focusing on direct and continuous interactions with parents to encourage increased attendance of children, including those at the highest risk of dropping out.
Conducting regular dialogues between community-based organisations and Panchayati Raj institutions to help prevent child marriages. Civil society organisations and nonprofits will also need to lead counselling sessions for the communities they work with to ensure instances of early marriage, child trafficking, and child labour are identified and curbed.
Providing in-kind support such as mid-day meals to help families overcome the increased costs of sending children to school, and supplying basic safety and hygiene kits. This could encourage re-enrolment, particularly for the most vulnerable.
Incorporating bridge courses that help children overcome their learning losses, so that the gap created in education does not impact their learning in the future. This must be followed by age-appropriate learning programmes in the curriculum as children from diverse age groups come back to school. The new curriculum should also focus on the mental and physical well-being of children, given that they missed out almost entirely on learning and interacting with peers during the pandemic.
Launching a campaign aimed at getting girls back to school with active support from school management committees and the local government. This is critical as the chances of girls dropping out are higher this year due to the added economic strain caused by COVID-19.
Inclusive funding will be paramount
We have to recognise the fact that the current national and global financing for education is just not sufficient. The funding gap, as estimated by a number of thought leaders, is approximately USD 75 billion per year. And this is just enough to ensure that every child receives an education—this is just the shortfall.
Funding must be inclusive and focus on initiatives that ensure access to quality education for the most vulnerable children.
The pandemic witnessed rigorous fundraising activities both at the government and non-government levels. Most of these funding initiatives focused on direct relief measures. In the beginning of the pandemic, the focus was largely on providing daily supplies to the masses and setting up digital facilities for education, and this was non-inclusive in nature. In the second wave, the focus shifted to meeting medical emergencies such as oxygen cylinders and ventilators. The massive disproportionate spending on these causes led to the neglect of issues such as education for the most marginalised.
Now, as we seek to build an education system that can withstand future shocks and ensure that no child is left behind, we truly need a war chest. We must be able to persuade global and domestic donors as well as governments that more funding is needed. However, at the same time, this funding must be inclusive and focus on initiatives that ensure access to quality education for the most vulnerable children. And as we dive deeper into the problems related to the lack of access to resources and education for the most vulnerable communities, it is time to come together and address the problems at the grassroots, keeping the well-being of girls on priority.
—
Footnotes:
Ministry of Human Resource Development, Government of India, 2017. Effectiveness with Equity: Raising Learning for Marginalized Girls Through CAMFED's Program – Research for Equitable Access and Learning, 2018.
—
Know more
Watch how Monica got back to school and learn more about Educate Girls' community pathways that bridge the gender gap in education.
Read this article to learn more about different programmes in Zambia and Congo to ensure girls return to school.
Read about how a child protection volunteer has kept her community safe during the pandemic.